Three Generations
Mark Hehnke got his start in the grocery business as a little boy spending time with his grandfather, Hugo, who founded Hehke's in 1920. Mark now manages Hehnke's meat department. He remembers growing up in the business – and in Paxton – fondly.
Some of his best memories come from "egg and daughter" nights, which would take place on Saturday evenings in Paxton when the farmers brought their goods and their daughters to town.
Mark said he doesn't see himself getting out of the business any time soon, despite getting older.
"I'm tired, but I'm not retired," Mark laughed. "Age is only a number."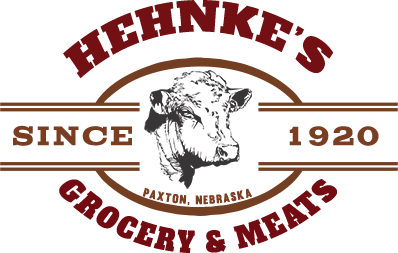 A brief history
1867
The first settler, an 18-year-old Union Pacific telegraph operator, moves to the area that would first be called Alkali and later Paxton.
1873
Keith County was established, named for Morrell Case Keith.
1880's
More settlers began flocking to the area that would become Paxton, then called Alkali.
1885
Alkali was incorporated and the name was changed to Paxton. It was named for William Paxton, the largest ranch operator in the area.
1895
A dozen homes made up Paxton, along with a general store, drug store, water tower, depot, post office, section house, a hotel and a bank.
1920
Hehnke's was founded by Mr. C. Hugo and Mrs. Bertha Hehnke in Paxton, Nebraska.
1955
Hehnke's moved to its new building in its current location. A grand opening celebration took place in December.
1997
Hehnke's expands to the North, giving customers a larger selection and a bigger place to shop.
Spring 2015
Hehnke's is purchased from the Hehnke family by a group of investors called Paxton Grocery & Meats, LLC. It continued to operate under the name Hehnke's. Renovations begin on the Hehnke's building.
Sept. 2015
The renovations at Hehnke's are completed. The store was also awarded the "Visionary Award" from Affiliated Foods, because of the efforts to improve the store.
Dec. 2015
Hehnke's is recognized by the U.S. Department of Agriculture because of the improvements to the building. The upgrades resulted in a projected annual energy savings of 41 percent. Paxton Grocery and Meats, LLC is given a $49,999 Rural Energy for America Program grant.
Sources:
Keith County News | "Alkali to Paxton" by Tomas England | University of Nebraska Media Commons | Nebraska Historical Society | www.keithcountyne.gov | USGenNet